How do you recycle a mattress?
Well, there is the dumb way. This assumes that the springs are the valuable bit, and tosses the mattress into a shredder and pulls the shredded up steel off using magnets. Looks like this.
You'd think that was a pretty clever way of going about it. You'd be wrong.
Sure, there's value in the steel, but there's also value in the foam (depending on markets) and the timber (to a lesser extent). Shredding the mattress destroys these elements.
It also jams up shredders. I have been to any number of "demonstrations" of new shredders that will apparently shred up a mattress. They're usually good for a couple before the spring steel clags the machine up. You want to laugh, because you knew it was going to happen, but you just feel sorry for the poor contractor who, at best, has just lost a whole heap of potential sales. At worst he's damaged his machine.
And then there's the clever way. This looks at the value of everything, including the space taken up in landfill, and pulls the mattress apart to maximise these values. It is men and women with sharp knives standing around a mattress on a wool classing tables, cutting it apart to separate out the springs from the foam from the fibre from the fabric. It looks like this: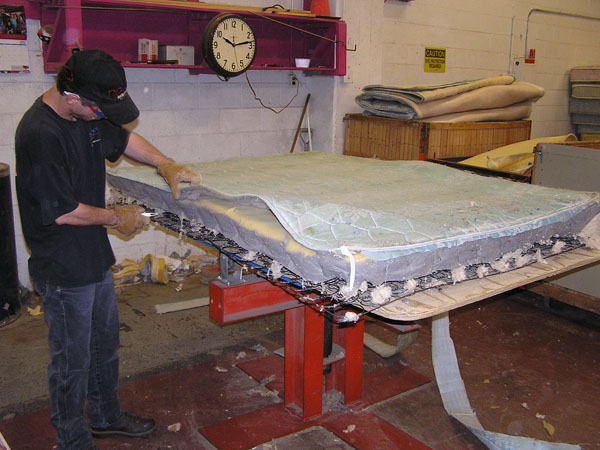 Mattress recycling with a knife, image courtesy of MPR News
The steel obviously has a market (but preferably cut into metre square pieces so it doesn't jam the steel shredder), and the foam can go to things like carpet underlay. In Australia, the big player was and presumably still is
Dunlop Flooring
, part of Pacific Brands. Baled and shipped to Melbourne, it is reincorporated into new products.
Up until late last year, you could comfortably say that most Australian cities had a mattress recycler, however
mattress cleaner and recycler Dreamsafe
went into voluntary liquidation in November 2011. They had a lot of plants on the east coast. There are probably others.
In the west, the
Eastern Metropolitan Regional Council
runs one, but you can drop your mattress off at most waste facilities and they will take it to the EMRC. You'll pay $10-20 or so for the service, but seriously, for the sake of a pint or two of beer at a Perth pub, how could you not?